IWW Friends of Palestinian Workers Group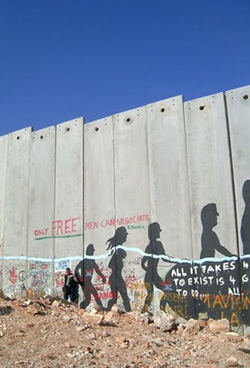 The Industrial Workers of the World as a revolutionary, democratically run union has a proud history of solidarity across all borders, occupations, industries, religions, races and nationalities. The IWW has stood against all wars since our founding in 1905. Wars are caused by capitalist governments, and anti-working class leaders and movements, for the economic and political benefit of the ruling elites. We, the working class are made to fight each other against our own interests.
It is in this spirit that members of the IWW have formed the IWW Friends of Palestinian Workers Group in order to foment solidarity between IWW members and Palestinian workers. The group hopes to educate ourselves and others about the conditions in the Occupied Palestinian Territories, educate around the issue of the Boycott, Divestment and Sanctions Campaign called by various Palestinian labor unions and civil society organizations, and build broad based solidarity with Palestinian workers.
Human rights and workers rights are inextricably linked, and by reaching out to Palestinian workers in an effort to build support for their struggle, we advance the Wobbly tradition of forming the structure of the new society within the shell of the old.
Contact information
Email: iwwinpalestine [at] gmail.com
Resources:
Resolutions:
Resolution in Support of Workers of Palestine-Israel:
WHEREAS the IWW was founded and remains true to the fundamental principle that all workers of the world must unite against our common enemy, the employing class; and
WHEREAS workers of the world toil in different stages of their consciousness of this need; and
WHEREAS when these workers and their organizations call for international unity in their own struggles against oppressive forces arrayed to prevent their exercise of basic rights necessary for growth towards the idea of One Big Union; and
WHEREAS the IWW has an international obligation to join with them to remove these impediments to their growth; and
WHEREAS the working class of Palestine has made direct requests to the IWW through each union with which the IWW delegation to Palestine met, to join the international campaign of Boycott, Divestment, and Sanctions ("BDS") call for by every union federation in Palestine against their occupier Israel as an effective form of resisting its military occupation, war crimes, and apartheid policies; and
WHEREAS there can be no true and just peace as long as exploitation continues and people are victimized by systems of oppression such as capitalism, colonialism, and apartheid; and
WHEREAS the continuing occupation, war, and apartheid will only increase the prestige and power of the reactionary fundamentalist forces.
BE IT RESOLVED THAT, the IWW affirms its support of the BDS campaign and calls for the implementation of the following actions to actively support the campaign:
1) The IWW Friends of Palestine Workers Group, with the international Solidarity Commission, shall develop written material to integrate into organizer workshops concerning the BDS, the basis for it, background material, ways to pursue it at the local level (joining local campaigns, signing on to ongoing actions, etc.), ways to defend and justify it to workers and to counter criticisms (international worker solidarity, relationship to US imperialism/capitalism, comparison to South Africa Apartheid, etc.).

2) Develop IWW specific material that can be used to explain our position to others and include information material for distribution by literature and merchandising committees, at literature tables, workplaces, marches, and pickets.

3) Sponsor education days at branches at which discussions can take place about the issue. Identify and invite experienced resource individuals knowledgeable about the issue and its implementation.

4) Ensure that this Resolution and information on the campaign is placed appropriately on IWW websites.

5) Put together a list of resources (dvds, cds, films, books, etc.) that can be distributed to branches.
FURTHERMORE, the IWW shall not recognize Histadrut ("The General Federation of Laborers in the Land of Israel") as the legitimate representative of Israeli workers unless and until it recognizes its impediments to working class solidarity and (1) call for the dismantlement of the Apartheid Wall, (2) calls for the withdrawal of Israel from all lands occupied in 1967, (3) recognizes the right of return for Palestinians with reparations, (4) ceases its discriminatory practices towards different workers based upon Zionist distinctions, (5) implements direct election of all union delegates and officers at Histadrut Conventions, and (6) calls for the abolition of all laws that discriminate workers on the basis of religion or ethnicity.
We call upon all workers in Palestine-Israel to recognize the supremacy of their class interests over sectarian interests of religion, ethnicity, or nationalism thus making an injury to one, an injury to all.
---