The General Strike by Ralph Chaplin
Introduction - (from the 1985 republication of this pamphlet):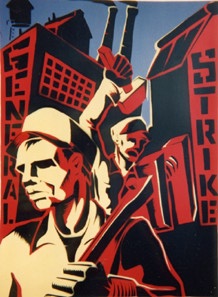 Thousands of thoughtful and class-conscious workers in years past have looked to the General Strike for deliverance from wage slavery. Today their hopes are stronger than ever. Their number has been increased with additional thousands who are confident that the General Strike, and the General Strike alone, can save Humanity from the torture and degradation of the continuation of capitalism and the misery and privation of its recurrent wars and depressions.
The General Strike is the child of the Labor Movement. It is Labor's natural reaction to a system of society based upon the private ownership of the machinery of production. It is Labor's ultimate attitude in the class struggle. It is Labor's answer to the problem of economic disorganization.
Logically enough the General Strike has become the rallying-cry of millions of persons the world over who favor it simply because they do not wish to see the highly industrialized modern world sink into chaos, and human society sink to the level of savage survival.
The idea of the General Strike is here to stay. It came into being with the perfection of the machine process and the centralization of control which made it possible. And it will remain as a constant challenge to capitalism as long as the machinery of production is operated for profit instead of for use.
What is the General Strike?
When Ralph Chaplin wrote this pamphlet in 1933, fascism was on the march in Europe and America. He saw the general strike not just as a broad work stoppage, but rather as the occupation of industry by the workers themselves. It was his belief then that only worker control of industry could combat fascist repression and insure world peace.
This conception of the general strike influenced the stay-in strikes of the '30s here and was modified by Japanese workers after World War II when they occupied the industries to make sure they were kept running. More recently, in the 1980s, workers in Bolivia, the Phillipines, Poland and South Africa have militantly taken up the tactic. It remains to be applied on a mass level once and for all to do away with the dangerous foolishness of private or State ownership of production. It is an idea both revolutionary and constructive, with a tremendous future.
Current IWW literature urges that workers the world over need to reach an understanding among ourselves as to what we will make, where we will ship it, and how we will distribute it in order to make optimal use of our skills and Earth's productive resources without either raping the Earth or making slaves of her people.
If you wish, you may download a PDF Version of this document.