The Shattuck Cinema Workers Union Is United and Strong. . .
Submitted on Wed, 10/31/2007 - 7:55pm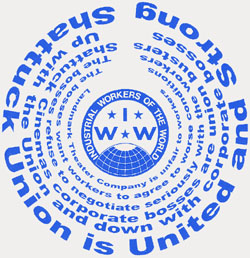 . . .but your continued solidarity is essential!
What you can do to support the Shattuck Union:
(1) Email the owner, Mark Cuban and tell him to respect workers rights - Mark Cuban's website where you can contact him is blogmaveric.com
(2) Email the company and demand better working conditions: <[email protected]>
(3) Join the IWW and organize your theater. For information about organizing, please visit this page.
(4) Visit the Shattuck Cinema, in Berkeley, and tell the workers you support them.

(5) Contact the Bay Area IWW and ask us for further ideas for providing solidarity and support.