Chapter 1 - Author's Forward
Born in 1899 in the Upper Peninsula Michigan town of Baraga, in the copper country. Son of a Saginaw-Bay City lumberjack and Grandson of a Civil War veteran. Went to work as a "swamper" in a logging camp for Weyerhauser Timber Company near Cloquet, Minnesota in November of 1914.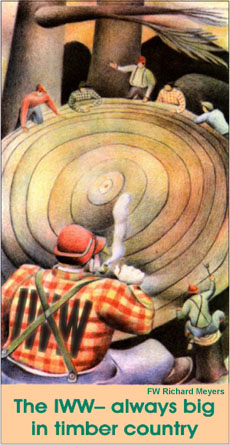 There will be plenty of "Bloopers" on the Kings English in this book as the author is not a grammarian, having went thru only 8 grades of common school, so we ask your forbearance. After some 50 years of labor in the lumber industry was forced into retirement in 1964 due to the reluctance of the insurance companies about hiring, or rather allowing the lumber companies to hire men over 50 years old. This created a condition whereby the older men had to work in the small seasonal mills, which did not run steady. This in turn lowered our benefits on Social Security upon retirement. The result was that I draw a federal social security of 84 dollars per month.
In the year of 1907 I was selling Saturday Evening Post, Colliers, Grit, and the Saturday Blade and Chicago Ledger mostly to loggers in the camps near Gemmell, MI. Many of them asked me to get the Solidarity, Industrial Worker, Appeal to Reason, and the Masses. These were IWW and Socialist papers and Magazines. When I asked my Dad about it he said, "Goddlemighty no, them are red publications." As this happened some ten years before the Russian Revolution it must be said that there is nothing new about the anti-red hysteria.
In 1909 my older Sister Grace Scribner sent us subscription to the Appeal to Reason, and the Masses magazine so I became acquainted with the Socialist philosophy, and the class struggle at an early age. Later on, in 1914 I went to work in the woods for Weyerhauser Timber Company as a swamper in the winter of that year and I gladly joined the Industrial Workers of the World, the "Wobblies". Remained with them until they practically vanished in 1923.
Married in 1927 and raised three sons and a daughter. The three Sons reside at Santa Cruz, California and are also employed in lumber.
This book is sort of "Dukes Mixture" of short stories, poems, jingles, satire, procedural methods of class struggle, actual experiences in same, and perhaps a few folks and labor songs. It is produced by a rank amateur as far as writing is concerned. It will also contain excerpts from the two Newsletters I founded and edited in the past, Lumberjack News of Fort Seward, Eureka, and Garberville, CA. with a brief spell at Chemult, Oregon The other was the Redwood Ripsaw of Davenport, California. Also there are articles which I had written for Lumberman's Magazine of Portland, OR, Industrial Worker, Vanguard, and several college mags.
I take this method of (self) publication simply because I lack a regular publisher's fee of $1,500 deposit. It so happens that when you work in the lumber industry you make lumberthe boss makes the money, as that is his department.
In the course of fifty years, I worked at practically all jobs in the industry: mills, woods, river drives, rafting, and pond work. 'nuff said about the author.