Big Charlie K Offers to Educate the Pittsburgh Pirates About Sweatshops.
Baseball Assailed for Using Sweatshops
By Diana Nelson Jones - Pittsburgh Post-Gazette, Saturday, October 16, 2004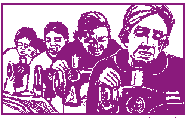 A champion of sweatshop workers in the developing world, Kenneth Miller has spent the past three baseball seasons rattling consumers' consciences outside PNC Park.
Those bobblehead dolls the fans clamor for, and a variety of other sports-related gee-gaws and apparel, are made in overseas sweatshops, according to Miller and other workers' advocates, including the National Labor Committee.
The Pirates don't decide which factories will make the merchandise it sells. Major League Baseball hires companies to produce it for 30 teams. Those companies, such as Nike, New Era and Rawlings, contract with factories.
But Miller, a member of Industrial Workers of the World, says the Pirates are complicit as beneficiaries of revenue and should bring pressure on Major League Baseball. His local alliance is targeting the Pirates directly because, he said, "They are the ones who should care the most what their fans think."
The Pittsburgh Anti-Sweatshop Community Alliance -- under the motto "No Sweatshops Bucco!" -- will present a forum today at Duquesne University to spotlight the 30-year fight of garment workers in Bangladesh to get a union, improve conditions at the plant and keep it from moving to China. The forum is open to the public from 2 to 4 p.m. in Pappert Hall, followed by a rally at Centre Avenue and Crawford Street.
Miller said he doesn't know whose apparel these workers make, but it's all the same in the big picture, which he calls "this nasty situation of human rights abuses."
The Pirates front office insists it passes alliance communications on to Major League Baseball. Patty Paytas, a spokesman for the team, said MLB "is very responsive, absolutely," to these notifications of displeasure. She added, "The Pirates absolutely have a conscience. The amount of work we do in the community should prove that."
For Miller's efforts on the sidewalks outside PNC Park, there is no evidence Pirates fans have rallied to the workers' cause.
He conceded that when he tells fans that, for instance, Chuck Tanner figurine dolls were made by Chinese workers forced to work 20-plus hour shifts, fans say, "Why are you trying to interrupt our nice day at the ballpark?"
To be sure, the issue reaches beyond baseball. Earlier this year, the National Labor Committee went after the NBA for dealing with apparel factories in repressive Burma, violating its own rules of business.
It also reaches far beyond sport. Some of the most popular name-brand retailers have for years been called to task for conditions in plants that make their products.
Earlier this year, the Gap was lauded by labor organizations for making public conditions at factories that manufacture its clothes, which include Banana Republic and Old Navy labels. Gap ended associations with more than 100 factories, but that decision highlights another side of scrutiny: Instead of improving conditions, it can prompt loss of jobs in already abject economies.
Perhaps the most memorable sweatshop news, in 1996, was when Charles Kernaghan, director of the National Labor Committee, exposed conditions in a Honduran factory that produced Kathy Lee Gifford's line of clothing for Wal-Mart, making the TV personality cry in humiliation.
Baseball is an easy target because it licenses more merchandise than any other professional sport and, says Kernaghan, is "one of the worst for having no labor-rights standards."
Howard Smith, Major League Baseball's vice president for consumer products, counters: "I can assure you there is no company we do business with that knowingly goes into a factory with sub-par working conditions."
He said teams make their own arrangements for items they give away, such as Chuck Tanner figurines, Willie Stargell bobbleheads, keychains. They buy from middlemen, not manufacturers. "But I can assure you, knowing my clubs pretty well, if we find out these [sweatshop-made] allegations are true, the Pirates won't be doing business with them anymore.
"If we find out about it, we will make changes."
According Kernaghan, there's a lot for Major League Baseball to find out about.
Kernaghan cited a factory in Turrialba, Costa Rica, with which Rawlings contracts for the manufacture of baseballs. Rawlings supplies all the baseballs to Major League Baseball, and this factory's conditions were the focus of a New York Times story last January. Smith said allegations against Rawlings' factory prompted Commissioner Bud Selig to telephone Smith and say, " 'Get down there and check it out.'
"I talked to nearly every employee," said Smith. "Not only are the allegations false, these employees are paid above the country's average wage."
The Times story cited one worker's $55 a week as "slighly above the country's minimum wage."
Rawlings President Robert Parish said workers in Turrialba earn "at least 14 percent above the government-established minimum wage rate, with many of our workers earning incentive payments beyond that."
He said the workers get nine paid holidays and two weeks of vacation per year, and that Rawlings makes retirement contributions, offers four-months of maternity leave and medical services.
Smith said workers told him the job of sewing the hide on the baseballs was the most sought-after job, but it's the job cited as the most injurious.
Kernaghan's labor committee investigators interviewed the Turrialba workers off site, "where people could talk without retribution." He said a majority of the workers who sew reported suffering repetitive stress disorders that are not addressed by the factory owners. "They sew 156 balls a day, one every 15 minutes. One stitch every 8.3 seconds. They get paid approximately 28 cents per ball. Of course workers want those jobs. They are showing up at 6 in morning and working until 6 at night because they desperately need the money.
"They told me. They wouldn't stay in those rotten jobs if they had any other options."
This article and its contents are the product of the publisher, and their opinions do not necessarily reflect those of the IWW. It's included here for information purposes only.