Sweat Free Baseball Campaign
Who We Are:
We are working to get sweatshops out of Major League Baseball by encouraging fans and community members to hold their local teams accountable, and by fighting for FREE SPEECH in and around stadiums which were built with our support!
We currently have active groups in the following cities:
Milwaukee, Wisconsin
New York City
Pittsburgh, Pennsylvania
We have already suffered police repression for speaking to fans about this issue. Four of our members were arrested and jailed on trumped-up charges which were later dropped. As a result of this, we WON the right to organize in the area around PNC Park in Pittsburgh.
We have spread our message across the country, and fellow workers in NY and Milwaukee have been fighting to have their teams take responsibility for using sweatshop-made apparel.
Since Major League Baseball has the contracts with sweatshop operators, we need YOU to organize a No Sweatshops! group in your hometown. We need to put the pressure on all teams, and push for community collective bargaining around these issues! The teams and cities use our money and space -- let's take control back --AGITATE!
News and Actions
Milwaukee
New York
Pittsburgh
FREE SPEECH AT PNC PARK? - Activists Arrested for talk About Sweatshops With Pirate Fans.
---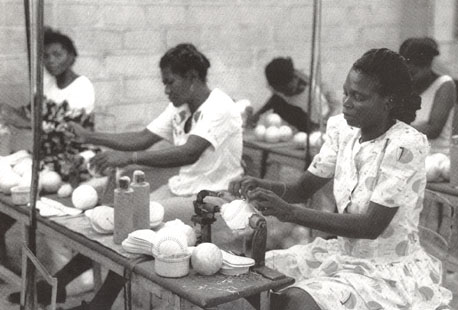 ---
Workers earn $2.00 U.S. per day at this U.S. owned baseball factory in Port au Prince, Haiti.